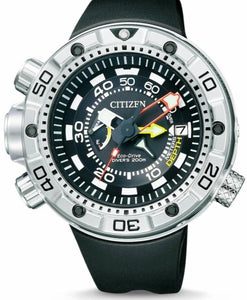 Citizen Eco-Drive Promaster Marine Aqualand 200M Diver BN2021-03E
Regular price $890.00 USD $649.00 USD Sale
This Citizen Eco-Drive Promaster Aqualand BN2021-03E belongs to Citizen's very popular Promaster diver collection, which consists of some of the market's best and most popular diver's watches. 
This is one of the most contemporary Eco-Drive Promaster Aqualand range. BN2021-03E is robustly built, it delivers quite a few enhancements that maximum toughness, accuracy, and visibility all in one. BN2021-03E is water-resistant for 200M. It is designed for professional diving, the synthetic rubber strap allows you to wear it on wetsuits. 
Moreover, this Citizen Promaster gave its outrageous size and colourful hands, it's a fashionable piece that fits everyone in a casual outfit. Last but not least, it's Eco-Drive can run for approx 11months, highly efficient. Overall, BN2021-03E has cutting-edge specs that fit in an all-new design diver watch.

Citizen Eco-Drive Promaster Marine Aqualand 200M Diver
BN 2021-03E




BN2021-03E Specifications:

Movement 
Eco-Drive
Caliber: J250 
Max Run, Approx 11months

Exterior 
Case: Stainless Steel 
Case Size: Diameter 48mm, Thickness 17.8mm 
Weight 177g 
Glass: Crystal Glass 
Strap: Black Synthetic Rubber 

Other Details 
Promaster series 
Water-resistant 200M 
Date Display
Depth Display to 70m
Eco-Drive ( recharged by any light source, no need to change battery)
Insufficient Charge Warning Function
Made In Japan
Maximum Depth Memory
Overcharge Prevention Function
Power Reserve Indicator