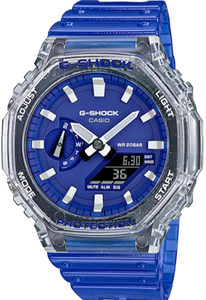 Casio G-Shock Analog Digital Special Color Models GA-2100HC-2A
Regular price $130.00 USD $115.00 USD Sale
This new colour model was based on the GA-2100 Analog Digital Octagonal series,  under the theme of exploration of an unknown coastal region. The serial number with the abbreviation "HC" is the referring to the theme of "Hidden Coast". Transparent resin to cover the watch case and match with highly transparent resin for the band in contrast. At the back, the watch was supported by the Carbon Core Guard Structure which provides the maximum toughness and at the same time keeping the weight to minimum.
 
Carbon Core Guard Structure
A new carbon core guard structure protects the module by enclosing it in a carbon case. The case is made of fine resin embedded with carbon fibers for outstanding strength and crack resistance.


Casio G-Shock Special Color Models

GA-2100HC-2A


Specification:
Movement
Analog-digital
Accuracy: ±15 seconds per month
Approx. battery life: 3 years on SR726W × 2
Exterior
Shock Resistant
Case / bezel material: Carbon / Resin 
Resin Band
Mineral Glass
Shock Resistant
Carbon Core Guard structure
Size of case : 48.5×45.4×11.8mm
Total weight : 51g
Other Details
Water Resistant 200M
Double LED Light
LED light for the face (Super illuminator, selectable illumination duration (1.5 seconds or 3 seconds), afterglow)
LED backlight for the digital display (Super illuminator, selectable illumination duration (1.5 seconds or 3 seconds), afterglow)
World time
31 time zones (48 cities + coordinated universal time), daylight saving on/off
1/100-second stopwatch
Measuring capacity:
00'00''00~59'59''99 (for the first 60 minutes)
1:00'00''~23:59'59'' (after 60 minutes)
Measuring unit:
1/100 second (for the first 60 minutes)
1 second (after 60 minutes)
Measuring modes: Elapsed time, split time, 1st-2nd place times
Countdown timer
Measuring unit: 1 second
Countdown range: 24 hours
Countdown start time setting range: 1 second to 24 hours (1-second increments, 1-minute increments and 1-hour increments)
5 dialy alarms
Hourly time signal
Hand shift feature
Full auto-calendar (to year 2099)
12/24-hour format
Button operation tone on/off
Regular timekeeping
Analog: 2 hands (hour, minute (hand moves every 20 seconds)), 1 dial (day)
Digital: Hour, minute, second, pm, month, date
#casio #gshock #casiogshock #ga2100 #ga2100hc4a #hiddencoast #casioak #specialcolormodels #carboncoreguard #gshockga2100 #skeleton #transparent #gshockholic #casioholic