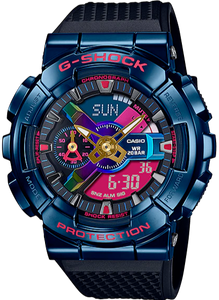 Casio G-Shock Metal Covered Bezel Special Color "Shanghai Night" GM-110SN-2A
Regular price $289.00 USD Sale
Casio G-Shock Special Color "Shanghai Night" Metal Covered Bezel

GM110SN-2A


The GM-110SN-2A features a blue colour IP on the popular GA-110 watch case and visually uses lighter blue contrast to reflect the fashionable trend. The theme of this series is "Shanghai Night". 

A watch inspired by the neon light in Shanghai, China the late-night skyline allows you to illuminate the darkness. The matt black urethane strap on this Casio G-Shock GM-110SN-2A creates the perfect backdrop for the ribbons of light that adorn the urban night sky, reminiscent of the darkness of midnight. The packaging box and Tin can have been specially designed to match the theme of the Shanghai city night scene.


GM-110SN-2A Specifications

Shock Resistant
Magnetic Resistant
Neobrite
Blue ion plated case
200-meter water resistance
Case/bezel material: Resin / Stainless steel
Resin Band
LED light (Super Illuminator)
Auto light switch, selectable illumination duration (1.5 seconds or 3 seconds), afterglow
World time
31 time zones (48 cities + coordinated universal time), daylight saving on/off, Home city/World time city swapping
1/100-second stopwatch
Measuring capacity: 999:59'59.99''
Measuring modes: Elapsed time, split time, 1st-2nd place times
Countdown timer
Measuring unit: 1 second
Input range: 1 minute to 24 hours (1-minute increments and 1-hour increments)
5 daily alarms (with 1 snooze alarm)
Hourly time signal
Full auto-calendar (to the year 2099)
12/24-hour format
Button operation tone on/off
Regular timekeeping
Analog: 2 hands (hour, minute (hand moves every 20 seconds)), 1 dial (stopwatch indicator)
Digital: Hour, minute, second, pm, month, date, day
Accuracy: ±15 seconds per month
Approx. Battery life: 3 years on SR927W×2
Module: 5553


 
Size of case / Total weight
Size of case: 51.9×48.8×16.9mm








#casio #gshock #casiogshock #GM110 #GM110SN2A #GA110 #gshockwatch #analogdigital #shockresistant #originalgshock #gshockorigin #metalcoveredbezel #gshockholic #casioholic #gshockoriginal #shanghainight