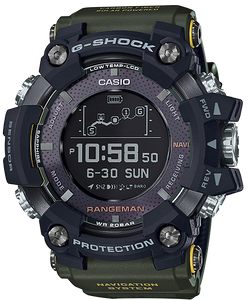 Casio G-shock Rangeman GPR-B1000-1BDR
Regular price $679.00 USD Sale
The world's first Solar Assist GPS Navigation 
Casio
 G-Shock 
Rangeman
 is here. Designed for adventurers to survive extreme toughness and any condition, this G-shock is equipped with a collection of features for you to cope with the environment.
From the G-Shock Master of G Series, this G-shock adopted a construction with a powerful body that is shock resistant, dust resistant, mud resistant, low temperature resistant, and water-resistant comes packed with functions that make it the first Casio G-Shock capable of GPS navigation. The dual charging system supports both wireless charging and solar charging, thus allowing the GPS functions to be used for 33 hours after about five hours of wireless charging.

With GPS and a digital compass combined, this Ragman is able to guide you to your destinations, while the watch tracks your routes and stores waypoint information in memory, making this the perfect tool for survival activities. 

When connecting with Bluetooth to the G-SHOCK app, this can greatly expand it's GPS performance, allowing you to create routes, display your routes on 3D maps plus more. This Rangeman is a totally new type of G-SHOCK that is designed for advanced function and bring the whole product line to a totally new horizon of ultimate toughness.


Casio G-shock Rangeman GPR-B1000-1BDR 

Specifications
Shock Resistant
Sapphire Glass with non-reflective coating
Mud Resistant
200-meter water resistance
Case / bezel material: Resin / Stainless steel
Carbon fiber insert Resin Band
LED backlight (Super illuminator)
Auto light switch, selectable illumination duration (1.5 seconds or 3 seconds), afterglow
Solar powered
Power Source
Solar powered system (solar-charging system), charging system compatible with wireless chargers (requires device with Type-A USB terminal)
Low-temperature resistant (–20°C/–4°F)
* Low-temperature resistance guarantees operation of the watch display only. It does not apply to operation of GPS, sensors or other functions.
GPS signal reception: Auto receive (time information, once/day); Manual receive (position information, time information)
GPS Navigation
Activity logs (up to 20 logs), track display (wide area map/magnified map switching), start-to-destination direct distance, bearing to destination, destination setting from Point Memory recordings, backtrack, activity time measurement, log use status
Mobile link (Wireless linking using Bluetooth®)
Point Memory
Up to 60 sets of point data (time, date, longitude/latitude, altitude, atmospheric pressure, temperature), point icons
Digital compass
Measures and displays direction as one of 16 points
Measuring range: 0 to 359°
Measuring unit: 1°
60 seconds continuous measurement
Bidirectional calibration and magnetic declination correction
Bearing memory (records and display one set of degree and direction)
Graphical display of north
Auto horizontal compensation
Altimeter
Measuring range: –700 to 10,000 m (–2,300 to 32,800 ft.)
Measuring unit: 1 m (5 ft.)
*Changeover between meters (m) and feet (ft)
Barometer
Display range: 260 to 1,100 hPa (7.65 to 32.45 inHg)
Display unit: 1 hPa (0.05 inHg)
Atmospheric pressure tendency graph
Barometric pressure tendency information alarm (beep and arrow indicates significant changes in pressure)
*Changeover between hPa and inHg
Thermometer
Display range: –10 to 60°C (14 to 140°F)
Display unit: 0.1°C (0.2°F)
*Changeover between Celsius (°C) and Fahrenheit (°F)
Airplane mode
World time
39 time zones* (39 cities + coordinated universal time), daylight saving on/off, auto summer time (DST) switching
*May be updated when connected to a smartphone.
Sunrise, sunset time display
Sunrise time and sunset time for specific date
1-second stopwatch
Measuring capacity: 999:59'59
Measuring modes: Elapsed time, split time
Countdown timer
Measuring unit: 1 second
Countdown range: 24 hours
Countdown start time setting range: 1 minute to 24 hours (1-minute increments)
4 daily alarms
Battery level indicator
Power Saving (Display goes blank to save power when the watch is left in the dark.)
Full auto-calendar (to year 2099)
12/24-hour format
Button operation tone on/off
Regular timekeeping: Hour, minute, second, am, pm, month, date, day
Accuracy: ±15 seconds per month (with no GPS signal reception and mobile link function)
battery operating time:
With GPS use
NORMAL (Intermittent reception): Approx. 33 hours
HIGH RATE (Continuous reception): Approx. 20 hours
*Approx. two months more for non-GPS functions
Without GPS use
Approx. 29 months with the power-saving function* on after full charge
*Power-saving after a certain period in a dark location
LED:White

Size of case / Total weight
Size of case : 60.3×57.7×20.2mm
Total weight : 142g


#casio #gshock #masterofg #gshockmasterofg #casiomasterofg #GPRB1000 #GPRB10001BDR #casiogshock #toughsolar # #gshockholic #casioholic #smartphonelink #shockresist #GPS #mudresist #solarpowered