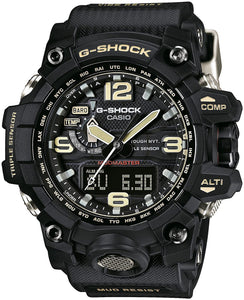 Casio G-Shock MASTER OF G - Land Mudmaster Tough Solar Triple Sensor Black Basic GWG-1000-1A
Regular price $550.00 USD $489.00 USD Sale
Casio G-Shock Master of G - Land Mudmaster GWG-1000 Tough Solar Triple Sensor Black-Dessert Basic

GWG1000-1A



This new Casio G-Shock Mudmaster "Land" model was created especially for this whose work takes it into areas where piles of rubble, dirt, and debris are present.
A special vibration-resistant construction lets them stand up to wear while operating cutters, crushers, drills, and other heavy machinery to clear away large obstacles. This is Casio's first analog watch to come with Mud Resist construction, which helps to ensure that nothing gets into the watch when down and dirty work takes you deep into the dirt and sludge. Multiple gaskets are used on the pipes that guide buttons and shafts, which keeps mud out. These pipes not only act to protect buttons from impact but also enhance button operation. The screw-in force of the screw lock bezel on an internal gasket further increases mud resistance.
A new bezel structure lets you visually check whether the bezel has been screwed in adequately. In addition, Triple Sensor Version 3 capabilities provide instant access to direction, barometric pressure, and temperature information when needed under tough conditions.
The face of this Casio G-Shock GWG-1000 watch is marked with large Arabian numerals as 12, 3, 6, and 9 o'clock for easy reading. The face is illuminated by a double LED light and protected by a sapphire crystal to ensure high visibility under virtually any conditions imaginable. The band surface is processed to resemble a cloth band texture, and the hour and minute hands are shaped with points that make them resemble warning markers. All buttons have a checkered surface for surer operation, and the overall design is tough and rugged.
Full Auto Calendar (Pre-programmed until the year 2099) 12/24 Hour Formats Button operation tone on/off Accuracy: +/- 15 seconds per month (with no signal calibration)
Storage Battery: Solar Rechargeable Battery Battery Level Indicator Power Saving Function (display goes blank and hands stop to save power when left in the dark) Approx. Battery Life: 6 months on a rechargeable battery (operation period with normal use without exposure to light after charge) and 25 months on a rechargeable battery (operation when stored in total darkness with the power save function on after full charge).




GWG-1000-1A Specifications:

Module 5463
Multi-Band Atomic Timekeeping (US, UK, Germany, Japan, China)
Receives time calibration radio signals which keep the displayed time accurate
Auto receive function (up to 6 times per day/up to 5 times per day for China)
Manual receive function
Signal: US WWVB, UK MSF, Germany DCF77, Japan JJY40/JJY60, China BPC
Frequency: US 60kHz, UK 60kHz, Germany 77.5kHz, Japan 40/60kHz, BPC 68.5kHz
Size of case / Total weight
Size of case: 59.5×56.1×18mm
Total weight: 119g

Mud resist structure (dust-resistant, mud-resistant)
Vibration resistant structure
Barometric pressure/altitude, bearing, temperature readings
Double LED light illuminates the face and digital display for outstanding readability
Screw-in crown
MULTIBAND 6 (Automatically adjusts time settings based on reception of one of the six-time calibration signals around the globe: Japan (2), China, United States, England, Germany.)
Tough Solar
200-meter water resistance
Case/bezel material: Resin / Stainless steel
Resin Band