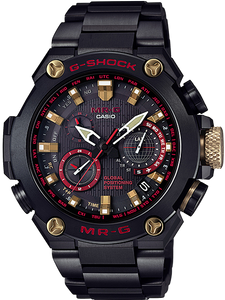 Casio G-Shock MR-G Titanium Akazonae GPS Hybrid Wave Ceptor MRG-G1000B-1A4
Regular price $2,609.00 USD $2,469.00 USD Sale
Casio G-Shock MR-G "Akazonae" GPS Black-Red-Gold

MRGG1000B-1A4



The Casio MR-G MRG-G1000 series is the first MR-G watch to incorporate shock-resistant construction and GPS HYBRID WAVE CEPTOR(Global Positioning System + Radio-controlled (Multi Band 6)) capability into a full-metal case, providing the user with accurate timekeeping no matter where you are located in any part of the world.

A new "clad guard structure", which incorporates the crown and buttons, and guard parts that protect them into a single unit for improved shock resistance, makes it possible now to enjoy both easy crown operation and durability in a smaller configuration.

All of the above together with a dual-hardened, Sallaz-polished finish, sapphire crystal with non-reflective coating, etc, make the MRG-G1000 series a stunningly attractive timepiece that is elegant but at the very same time highly functional. This series is proudly made in Japan under CASIO's Premium Production Line located in Yamagata.

From the G-Shock MR-G flagship lineup, comes a new Akazonae theme model.
Akazonae was a special military unit during Japan's Warring States Period (Sengoku Jidai), whose armor and weapons were a distinctively uniform red color, which is said to have allowed commanders of elite troops to flaunt the valor of their soldiers. The MRG-G1000B-1A4 features all of the toughness, decorated with distinctive red coloring for the engraved lettering of the bezel and different components of the face. The watch is a symbol of strength and power that last till the end of time.




MRG-G1000B-1A4 Specifications:
Case/bezel material: Titanium
Solid Band
Tight-lock, 1-press, 3-fold Clasp
Titanium Band
Sapphire Glass with non-reflective coating
Neobrite
Shock Resistant
Screw Lock Crown
Deep Layer Hardening + DLC Coating
200-meter water resistance
Solar powered
LED light (Super Illuminator)
Afterglow
GPS signal reception: Auto receive (time information, once/day); Manual receive (position information, time information)
Time calibration signal reception:
Auto receives up to six* times a day (remaining auto receives canceled as soon as one is successful)
*5 times a day for the Chinese calibration signal
The latest signal reception results
Time Calibration Signals
Station name: DCF77 (Mainflingen, Germany)
Frequency: 77.5 kHz
Station name: MSF (Anthorn, England)
Frequency: 60.0 kHz
Station name: WWVB (Fort Collins, United States)
Frequency: 60.0 kHz
Station name: JJY (Fukushima, Fukuoka/Saga, Japan)
Frequency: 40.0 kHz (Fukushima) / 60.0 kHz (Fukuoka/Saga)
Station name: BPC (Shangqiu City, Henan Province, China)
Frequency: 68.5 kHz
The auto hand home position correction
Airplane mode
World time
40 time zones (27 cities + coordinated universal time), daylight saving on/off, auto summer time (DST) switching
1/20-second stopwatch
Measuring capacity: 23'59.95''
Measuring mode: Elapsed time
Countdown timer
Measuring unit: 1 second
Countdown range: 24 hours
Countdown start time setting range: 1 minute to 24 hours (1-minute increments and 1-hour increments)
Daily alarm
Low battery alert
Power Saving (hands stop to save power when the watch is left in the dark)
Full auto-calendar (to the year 2099)
Date display
Regular timekeeping
Analog: 3 hands (hour, minute (hand moves every 10 seconds), second)
3 dials (24-hour, world time hour and minute, day)
Accuracy: ±15 seconds per month (with no signal calibration)
battery operating time:
7 months on rechargeable battery (operation period with normal use without exposure to light after charge)
18 months on rechargeable battery (operation period when stored in total darkness with the power save function on after full charge)
 
Size of case / Total weight
Size of case: 54.7×49.8×16.9mm
Total weight: 153g




#casio #gshock #mrg #gshockmrg #casiomrg #MRGG1000B1A4 #mrgg1000 #gshocklimited #casiogshock #toughsolar #masterofg #titanium #gshockholic #casioholic #toughsolar #toughmovement #shockresist #multiband6 #MRG #GPS