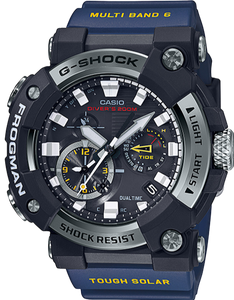 Casio G-Shock Master of G Analog Frogman ISO 200M Diver GWF-A1000-1A2
Regular price $799.00 USD $739.00 USD Sale
Casio G-Shock Analog Frogman ISO 200M Diver's Watch

GWFA1000-1A2



The very first Casio G-Shock Analog FROGMAN GWF-A1000 Series of MASTER OF G ISO 200m diver!
The new GWF-A1000 has kept the asymmetrical design, and removed all traditional digital elements in exchange for a retro physical hour and minute hand analogue impression!
In addition to great designs, these new models incorporate modern tech infrastructure as well as advanced functions. This model incorporates the case and back cover into a single unit with carbon fibre-reinforced resin. It has a low water absorption coefficient and resists hydrolysis, which results in a higher level of water resistance and greater strength. GWF-A1000 is 22 grams lighter! Sapphire crystal with a non-reflective coating is a major improvement.
The fluoroelastomer band is dirt-resistant and has a low water absorption coefficient, and the band ring is made of an even harder fluoroelastomer. The result is a band and ring that can stand up to some of the toughest environments imaginable.
The GWF-A1000 featured a new module that has an always-connected Bluetooth system;
A G-SHOCK Connected app can be downloaded to a smartphone and linked to the watch. Of course, Casio's famous Tough Solar and Radio-controlled Watch with Multiband 6 is a must!
GWF-A1000-1A2 Specification:
Shock Resistant
Magnetic Resistant
Neobrite
Carbon Core Guard structure
Sapphire Glass with non-reflective coating
Screw Lock Crown
Spherical Glass
ISO 200 meters Water Resistance
Case/bezel material: Carbon / Stainless steel
Resin Band
LED light (Super illuminator)
Afterglow
Tough Solar (Solar powered)
Time calibration signal reception
Auto receive up to six* times a day (remaining auto receives cancelled as soon as one is successful)
*5 times a day for the Chinese calibration signal
Manual receive
The latest signal reception results
Time Calibration Signals
Station name: DCF77 (Mainflingen, Germany)
Frequency: 77.5 kHz
Station name: MSF (Anthorn, England)
Frequency: 60.0 kHz
Station name: WWVB (Fort Collins, United States)
Frequency: 60.0 kHz
Station name: JJY (Fukushima, Fukuoka/Saga, Japan)
Frequency: 40.0 kHz (Fukushima) / 60.0 kHz (Fukuoka/Saga)
Station name: BPC (Shangqiu City, Henan Province, China)
Frequency: 68.5 kHz
Diving mode
Dive time: 1-second increments, up to 1:59'59
Surface time measurement: up to 24 hours
Log data: up to 30 records
Mobile link (Wireless linking using Bluetooth®)
The auto hand home position correction
Dual time
27 time zones, Hometime swapping, auto summer time (DST) switching
1-second stopwatch
Measuring capacity: 23:59'59
Countdown timer
Measuring unit: 1 second
Countdown range: 24 hours
Countdown start time setting range: 1 minute to 24 hours (1-second increments)
Daily alarm
Power Saving (hands stop to save power when the watch is left in the dark)
Hand shift feature (Hands move out of the way to provide an unobstructed view of Indial)
Full auto-calendar (to the year 2099)
Date display
Day indicator
Regular timekeeping
Analog: 3 hands (hour, minute (hand moves every 5 seconds), second), 3 dials (dual time hour and minute, dual time 24 hour, day)
Accuracy: ±15 seconds per month (with no signal calibration and mobile link function)
battery operating time:
5 months on rechargeable battery (operation period with normal use without exposure to light after charge)
30 months on rechargeable battery (operation period when stored in total darkness with the power save function on after full charge)
LED: White


Size of case / Total weight
Size of case: 56.7×53.3×19.7mm
Total weight: 119g