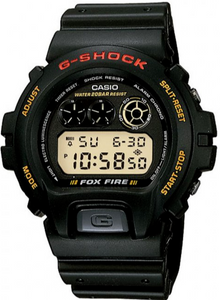 Casio G-Shock 6900 Series Fox Fire DW-6900B-9
Regular price $109.00 USD Sale
Casio G-Shock 6900 Series "Fox Fire"
DW-6900B-9

Since its launch in 1983, Casio G-Shock has been constantly evolving in terms of functions and design with toughness as the keyword. Adopted gold liquid crystal, equipped with EL backlight, 1/100 second stopwatch, etc., all the oldies but goldies that the original piece equipped with and blended in a modern appearance.

Today Casio G-Shock is re-producing the legendary "Fox Fire" in a modern colourway. Wanna feel like the 80's again!

Specification:
Impact resistant structure (shock resist)
Water resistant to 20 bar
Case / bezel material: Resin
Resin band
Stopwatch (1/100 second (00'00 "00-59'59" 99) / 1 second (1: 00'00 "-23: 59'59"), 24-hour counter, with split)
Timer (set unit: 1 second, maximum set: 24 hours, measurement in 1 second units, auto repeat)
Multi-alarm / time signal
Fully automatic calendar
12/24 hour system display switching
EL backlight (with afterglow function)
Sound flash function (alarm / time signal / timer interlocking light emission)
Accuracy: Average monthly difference ± 15 seconds
Battery life: about 2 years
EL: Blue Green
Size of case / Total weight
Size of case : 53.2×50×16.3mm
Total weight : 67g

#casio #gshock #casio6900 #gshock6900 #dw6900 #dw6900b9 #casiogshock #casiogshockdw6900 #foxfire #limitededition #casiolimitededition #gshockholic #gshocklover #gshockcollector #gshockorigin #gshockhistory